September 2022 – Monthly portrait of a young researcher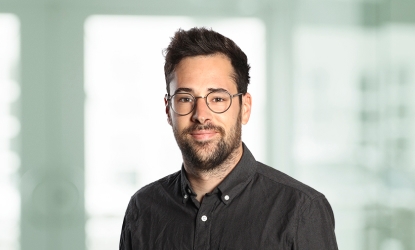 Jérémy Ariey-Bonnet, PharmD/PhD
Jérémy Ariey-Bonnet is a pharmacologist from Aix-Marseille University in France. During his PharmD and PhD at Cancer Research Center of Marseille, he aimed at developing and evaluating innovative strategies to fast-track the identification of repurposable drugs and associated anti-cancer molecular mechanism(s) of action in GBM. To achieve this goal, he developed an in-silico approach to predict and validate the putative molecular targets of an anti-helminthic drug called mebendazole (MBZ) in GBM. He thus demonstrated, for the first time, that MBZ was able to inhibit MAPK14 (a.k.a. p38α) kinase activity in a dose-dependent manner by biophysical, biochemical, and cellular assays. In addition, he demonstrated that MAPK14 was involved in GBM cell proliferation and sensitivity to MBZ by RNA interference (Ariey-Bonnet et al. Molecular oncology 2020). He also worked on using functional drug/siRNA screens to uncover new active and repurposable drug combinations for GBM (manuscript in preparation).
Since September 2021, he is a post-doctoral researcher in Krister Wennerberg's group at the Biotech Research and Innovation Centre (BRIC), University of Copenhagen, and he is working on identifying and validating new therapeutic targets in glioblastoma stem cells (GSCs).Over the last decade, it has become evident that this cell subpopulation is poorly targeted by current therapies and that it can drive relapse of GBM patients. Therefore, identifying new GSC-targeting treatment strategies to eradicate both GSCs and differentiated GBM cells is of high priority and clinically relevant.
In his proposed project, he aims to make preclinical discoveries of treatment strategies that could target GSCs and that therefore could extend survival or provide cures for GBM patients.
To do this, he will use the setup he already established in Prof. Wennerberg's group at BRIC to rapidly identify genes that GSCs depend on. Through active collaboration with the staff scientists from high content CRISPR screen (HCCS) core facility at BRIC, he will perform high throughput CRISPR arrayed screening on GBM organoids to uncover actionable vulnerabilities in GSCs. Then, he will investigate how the identified genes could be targeted with approved or investigational drugs using ex vivo drug testing on organoids. Finally, the clinically relevant compounds will be validated in an orthotopic model of GBM. Together, his studies will contribute to the development of a new precision medicine approach to rapidly identify new therapeutic opportunities for GBM patients. In the future, he foresees that this project will contribute to identify which molecules in each patient should be targeted and how best to target them, so that we can move our current nonspecific therapies toward the realm of personalized medicine.
Research focus:
Glioblastoma stem cells
Anticancer drug discovery
Organoid culture
High throughput drug screening
High throughput CRISPR screening
Drug target identification/validation
Drug repurposing
WP relation:
WP1 – Molecular characterization and identification of clonal evolution – Joachim Weischenfeldt
WP2 – Ex vivo high-throughput Drug screening – Krister Wennerberg
WP3 – Identification and profiling of malignant, migratory cells – Bjarne Kristensen
WP4 – Pre-clinical drug-testing in vivo model systems – Janine Erler
WP5 – Identification and validation of novel therapeutic targets – Krister Wennerberg
Publications:
1:Sidorov P, Naulaerts S, Ariey-Bonnet J, Pasquier E, Ballester PJ. Predicting Synergism of Cancer Drug Combinations Using NCI-ALMANAC Data. Front Chem. 2019 Jul 16;7:509. doi: 10.3389/fchem.2019.00509. PMID: 31380352
2:Ariey-Bonnet J, Carrasco K, Le Grand M, Hoffer L, Betzi S, Feracci M, Tsvetkov P, Devred F, Collette Y, Morelli X, Ballester P, Pasquier E. In silico molecular target prediction unveils mebendazole as a potent MAPK14 inhibitor.Mol Oncol. 2020 Dec;14(12):3083-3099. doi: 10.1002/1878-0261.12810. Epub 2020 Oct 18. PMID: 33021050
3:Daulat A, Wagner M, Audebert S, Kowalczewska M,Ariey-Bonnet J, Finetti P, Bertucci F, Camoin L, Borg J-P. The serine/threonine kinase MINK1 directly regulates the function of promigratory proteins. Journal of Cell Science. Aug 2022. doi: 10.1242/jcs.259347 PMID: 35971817 
Posters:
Ariey-Bonnet et al (2016). Annual Seminar of Canceropole PACA 2016. Palais des congrès, Saint Raphaël, France. (regional, poster)
Ariey-Bonnet et al (2016). XVIth days of the French Clinical and Oncological Pharmacology Group (GPCO). Centre de Recherche en Cancerologie de Toulouse (CRCT), Toulouse, France (international, oral presentation)
Ariey-Bonnet et al (2017). 8th colloquium of Canceropole PACA Hôtel de region, Marseille, France (regional,poster)
Ariey-Bonnet et al (2017). 15th Research Day. Faculty of Pharmacy of la Timone, Marseille, France (regional, oral communication)
Ariey-Bonnet et al (2018). XIIème Day of Biology, Chemistry and Physic. Faculty of Pharmacy of la Timone, Marseille, France (national, oral communication)
Ariey-Bonnet et al (2019). Colloquium of the doctoral school Faculty of medicine of la Timone, Marseille, France (regional, oral communication)
Ariey-Bonnet et al (2019). 3rd colloquium of fondamental research and translational research in pediatric oncology Pole juridique et judiciaire, Bordeaux, France (international, oral communication).