January 2023 – Monthly portrait of a young researcher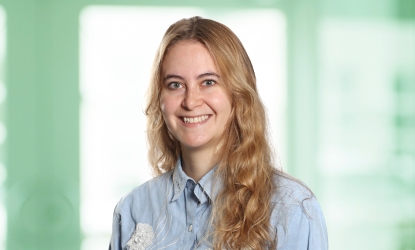 Josephine Deleuran Hendriksen
Josephine Deleuran Hendriksen is a Postdoc in the lab of Joachim Weischenfeldt at Biotech Research & Innovation Centre (BRIC), University of Copenhagen and has a background in molecular biomedicine.
In her PhD thesis, she used single-cell RNA-sequencing to investigate glioblastoma evolution in the context of both immunotherapy treatment and chromatin changes. Single-cell RNA-sequencing allows for the study of glioblastoma tissue at single-cell resolution, highlighting the diversity of cell types and states within the tissue. Using the approach on multiple surgical timepoints Josephine found signs of an early mutation-driven evolution, while later disease stages were dependent on chromatin changes and tumor microenvironment
As part of her PhD training, Josephine joined the Computational Oncology lab of Naveed Ishaque, Berlin Institute of Health, Charité for an exchange and performed trajectory analysis on single-cell RNA-sequencing data, allowing the estimation of each patient's evolutionary transcription state selection between primary and relapse tumor.
After obtaining her PhD in September 2022, she started her Postdoc continuing the work on single-cell derived evolution of glioblastoma in the Weischenfeldt lab. As such, Josephine is affiliated to work package WP1 and WP3 of the DCCC Brain Tumor Center.
Research focus:
Tumour microenvironment
Single-cell RNA-sequencing
Immunotherapy
WP relation: WP1 + WP3