December 2022 – Monthly portrait of a young researcher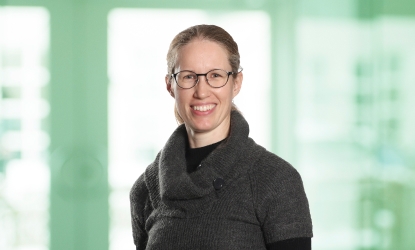 Helle Sørensen von Essen
Helle Sørensen von Essen is a Registered Nurse and Master of Science in Health Science. She is working on the final parts of her Ph.D. study at Odense University Hospital and the University of Southern Denmark. Following her Ph.D., Helle will continue her research on patient involvement and shared decision making for patients with glioblastoma and their families as PI on WP18.
The results from the Ph.D. study showed that most patients with a glioblastoma recurrence prefer to be involved in the decision making concerning their treatment and care. The study also found that the patients' cognitive impairments cause challenges to decision involvement. Based on this, a patient decision aid was developed to support patient and family involvement in decision making at glioblastoma recurrence.
In the WP18, the patient decision aid will be tested and evaluated in clinical practice to assess its potential for supporting shared decision making. The study will be carried out as a pre-and post-intervention study, with observer measures of shared decision making as the primary outcome. A secondary outcome is the patients', families', and clinicians' experiences using the patient decision aid.
The overall aim of WP18 is to generate knowledge about how we can best support patients with glioblastoma in making well-thought-through decisions that fit their hopes and values concerning the life they want to live. However short it might be.
Neurosurgical professor Frantz Rom Poulsen is CO-PI on WP18.
Research focus:
Shared decision making
Patient-centered care
Family-centered care
WP relation:
PI on WP18