August 2022 – Monthly portrait of a young researcher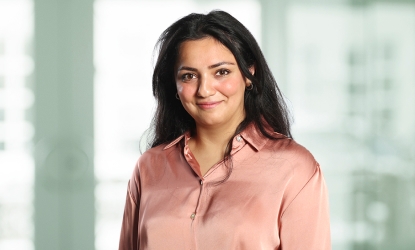 Aleena Azam is a MD from the University of Copenhagen and currently working in the field of gliomas and uPAR.

During Aleena Azam's time as a medical student, Aleena was quite fascinated by the brain which lead to several research stays with focus on the central nervous system and basic research. Aleena's introduction to the field of gliomas began in 2015 as a research year student in a collaboration between the Department of Neurosurgery and Danish Cancer Society with basic research focusing on gliomas as well as the establishment of a comprehensive glioma biobank.  
Aleena Azam later finished her MD, and after a couple of years in the clinic both in Neurosurgery and other fields, she decided to further explore research in the field of gliomas as a clinical research assistant at the Department of Clinical Physiology, Nuclear medicine and PET since February 2020.

Aleena Azam is currently working on her PhD in a collaboration between the Department of Neurosurgery, Cluster for Molecular Imaging, and Department of Clinical Physiology, Nuclear medicine and PET with professor Andreas Kjær as main supervisor and associate professor Jane Skjøth-Rasmussen as co-supervisor.

There is a need for a unified collaborative approach towards understanding tumorigenesis and the development of new treatment modalities in the field of glioblastoma as despite extensive research through many years, the tumor remains as notorious as ever for its aggressive nature, and poor patient survival, mainly due to the high degree of therapy resistance among glioblastoma cells. Much has changed in the years since Stupp and colleagues introduced their concomitant regime in 2005, but the survival remains roughly unchanged.
This underlines the need for better translatable preclinical models, which has been Aleena Azam's focus since 2020 in her work with the patient derived xenograft (PDX) and patient derived orthotopic xenografts (PDOX) models.
These models are increasingly used as an integrative platform for preclinical treatment trials due to their close resemblance to the parental tumors.
The main advantages of PDX models when compared to conventional established cell lines is that the models represent the clinical setting more adequately, resulting in a more holistic approach towards understanding tumorigenesis and preclinical drug screening.

During the last couple of years Aleena Azam has additionally worked closely with the neurosurgeons as well as the nuclear medicine physicians with focus on optical imaging and molecular targeted imaging with uPAR-PET/MR imaging of gliomas. uPAR-PET/MR with the tracer 68Ga-NOTA-AE105 is emerging as a promising new imaging modality in the field of targeted imaging and targets the uPA receptor which is highly expressed in glioblastoma and therefore has a high potential for diagnosis and prognostication in gliomas.

Conclusively, the objective of Aleena Azam's 3-year PhD is to improve diagnosis and prognostication of gliomas including glioblastoma with focus on preclinical and clinical validation of new imaging biomarkers and treatment modalities.
Aleena's research focus
Molecular imaging
PDX and PDOX models
Optical imaging
Theranostics
WP relation